Lean Six Sigma History
The terms Lean and Six Sigma started nearly two and a half decades ago in the mid 1980's. They originated in different industries to serve different purposes. Lean is generally focused on removal of waste and is done at the "grass roots" level by those closest to the work and with the guidance of Lean Experts. Lean creates a culture of good change (Kaizen). Six Sigma generally focuses on the reduction of variation. Six Sigma tends to be more project based and data driven. Both improve business performance.
Roughly ten years ago, we began to merge the two separate approaches into one powerful combination. Lean Six Sigma has become the way to achieve sustaining process improvement. Lean and Six Sigma are both considered "enablers". They are proven approaches to process improvement that enable any business in any industry to obtain better results.
Lean
Lean utilizes the PDCA (plan-do-check-act from Edward Deming in 1950 as he translated from Shewart's 1939 continuous improvement cycle) or PDSA (plan-do-study-act from Deming in 1986) model for improvement. Deming replaced the word "check" with "study" to emphasize analysis vs. inspecting.  The PDSA is a constant reminder that we are never done. We should always be cycling back to re-study and re-adjust for continued improvement. These are the 5 principles of Lean from James Womack in the late 1980's.
Value– what customers are willing to pay for
Value Stream – the steps that deliver value
Flow – organizing the Value Stream to be continuous
Pull – responding to downstream customer demand
Perfection – relentless continuous improvement
Six Sigma
Six Sigma's strong focus on variation reduction results in stable processes that deliver higher quality. 6 Sigma is a measure of quality that equates to 3.4 defects per million. If your business delivers 6 Sigma quality, you would only make 3 defects in 1,000,000 products produced. Those formally trained and certified in Six Sigma earn titles of Green Belt, Black Belt and Master Black Belt. Six Sigma is project and data driven and uses the DMAIC model for on-going improvement.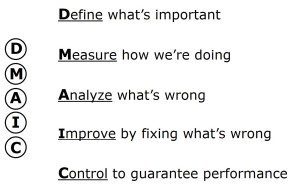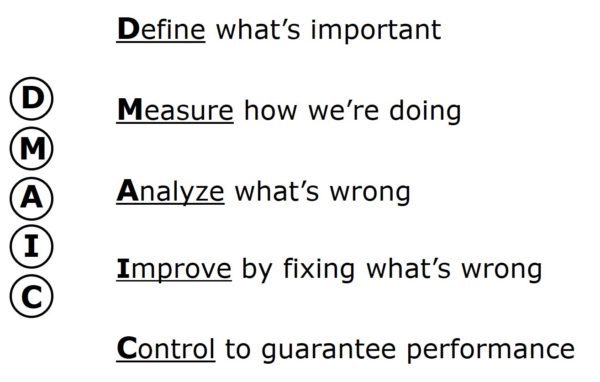 Lean Six Sigma
Lean Six Sigma is a combination of both proven approaches. It uses the DMAIC model for projects and Kaizen Events. Culture is created as those closest to the value are engaged with process improvement. Long-term results are achieved as performance measurement systems are set in place to monitor and control. Leadership is engaged strategically to assure that the projects and events are aligned with the overall business objectives.
The following model shows that though Lean and Six Sigma may have started in different industries with different approaches, they complement each other well to deliver quantifiable and sustaining performance improvement.